25/04/2019
BLUES APERITIF
Kevin Davy White in concert as part of the Blues festival in Valdaso
25/07/2019
FURENTES
"The Aeneid of Madness" with Isabella Carloni, Paolo Bragaglia, Francesco Savoretti.
20/10/2019
ASCOLTA, PENELOPE
Show lesson on Odysseus and his loves. By and with Cesare Catà. Event held as part of the Typicity and Archeology autumn fair.
19/10/2019
"Archeofood – La storia nel piatto e il progetto Mo.Se.Um"
Event dedicated to the archeology of food with the collaboration of the Università dei Sapori (Marino Marini) e Università degli Studi di Perugia (Prof. Paolo Braconi): conference and guided tasting as part of the Typicality and Archeology autumn fair.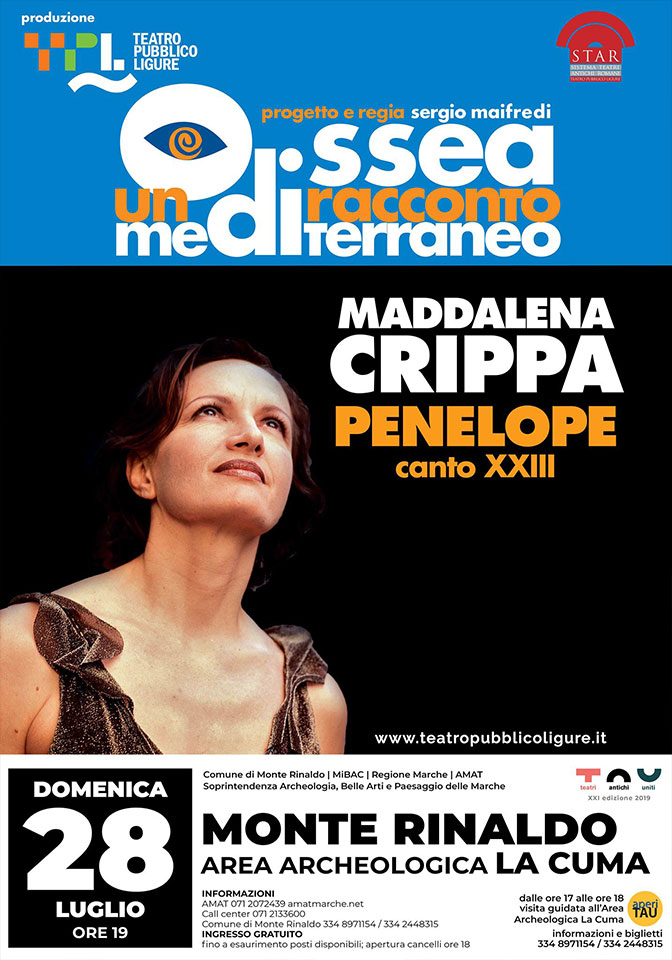 28/07/2019
ODISSEA IUN RACCONTO MEDITERRANEO
Tau show "Penelope, Canto XXIII" with Maddalena Crippa
28/07/2018
SPETTACOLO TAU
"Il duello per Elena, canto III" with Tullio Solenghi
22/09/2019
"Raccontare l'archeologia: didattica, ricerca, esposizione"
Presentation of the 2019/2020 educational season and inauguration of the permanent exhibition "Il santuario di Monte Rinaldo: archeologia del sacro".
11/06/2017
QUINT'ETTO
Concert of the "Quint'etto" d'archi from the Accademia di Santa Cecilia at the archaeological area
01/05/2019
PASSEGGIATA ARCHEOLOGICA
2019 edition: guided tours, music, educational workshops
29/09/2019
"Le Marche fantastiche che non conosciamo: Monte Rinaldo nascosto"
discovering the village and the archaeological area with FAI
21/10/2017
"Nuove indagini e nuove prospettive per la Cuma di Monte Rinaldo"
Conference
08/09/2019
"Circe o il profumo dei maiali"
Theatrical performance by and with Isabella Carloni with Carlo Strappa, an event included in the Bookmarchs program, L'altra Voce, Festival of books and their translators.